With 2019 quickly approaching, you're probably thinking of all the ways that you can improve your life. Maybe you're going to eat healthier, quit smoking, or get serious about reaching a goal. No matter what your personal plans are, it's time to give your home a bit of love.
Our New Year's resolutions for your home can help you keep your home in tip-top shape. There's also a chance that these improvements can help you save money or feel less stressed. Give them a try, you'll be glad you did!
Purge the Things You Don't Need
When you own a home, it becomes very easy to accumulate things over the years. You get some new sheets, but you hold on to the old ones just in case. You're keeping old toys packed away for sentimental reasons or because you think the kids might want to play with them again someday. It's time to stop these habits. Go through your entire home and get rid of the things you don't use. Donate the things that are still in good condition to a charity, and pit the rest in the garbage.
Get Organized
Once you've pared down your belongings, take the time to organize the things that you've kept. Essentially, everything you own should have a place for it to belong. Invest in sturdy storage containers to put things in. You may need to do one room at a time, but stick to it. This will help you keep your home cleaner on a daily basis.
You also may want to get a bit more organized with your family. This could mean hanging up a family calendar in the kitchen or syncing your digital calendars to make sure that you're not overlapping future commitments.
Review Your Insurance and Other Bills
People often take a "set it and forget it" approach when it comes to things like insurance and utility bills. We don't want to miss a payment, so we sign up for automatic billing. Unfortunately, this means we may be overspending.
Make a commitment to review your spending in these areas. Check to see if you might qualify for better insurance rates from a different company. Decide whether cable TV is really worth the money you're spending or if it might make more sense to switch to more affordable streaming options. Could you get a better deal or faster internet speed somewhere else? These changes could save you more than you realize.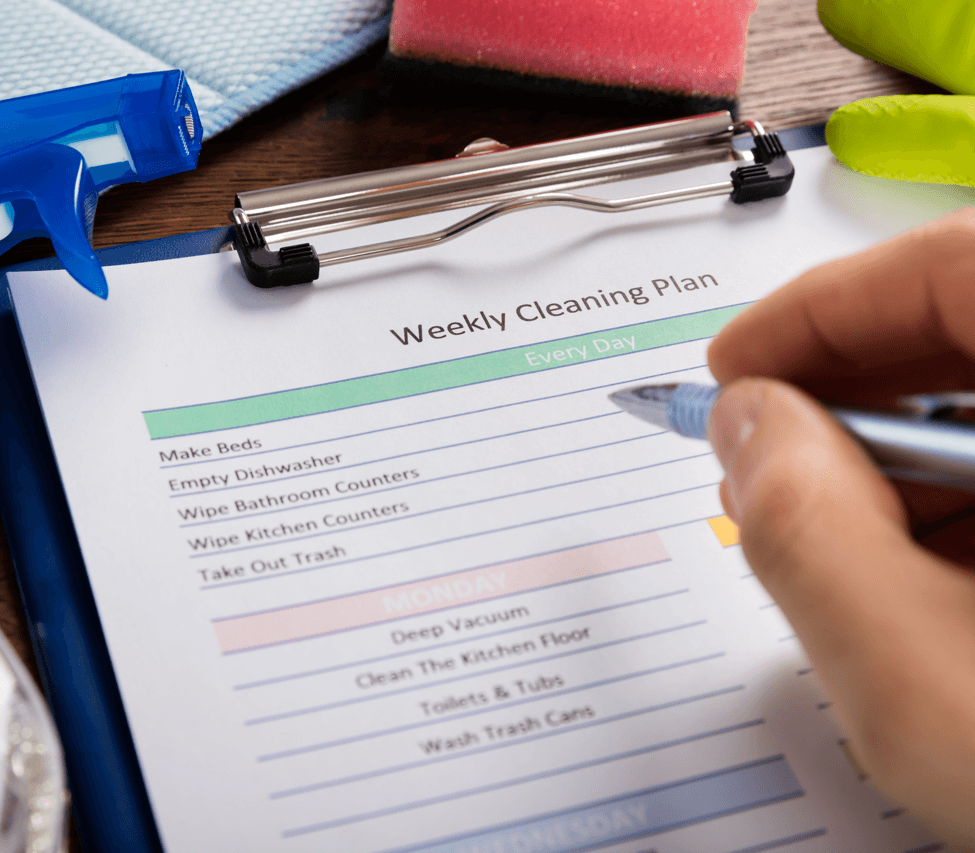 Set a Cleaning and Maintenance Schedule
If you want your home to look good, you have to take care of it. Certain things should be cleaned on a daily basis. For instance, you'll want to stay on top of the dishes and wipe down counter tops each day. Things like vacuuming, mowing the lawn, and checking the roof for damages might only need to be done weekly or seasonally. It can be helpful to make a schedule of these things so that you don't forget anything, especially when it comes to less common tasks like washing curtains or having someone come to inspect the furnace.
Get More Eco-Friendly
Resolving to make some green home upgrades in your home makes it easy to do your part in taking better care of our planet. If you're currently in a brand-new home, you're probably saving money with energy-efficient windows and appliances. However, there might still be room for improvement. Consider adding a smart thermostat to better control the temperature in your home. Replace light bulbs with LED lights. Research solar panels to see if that might be the right choice for you.
Bring Joy Into Your Space
You spend a lot of time in your home, and you should be happy with the time you spend there. Find ways that you can bring more joy into the home. This could be different for everyone. It might be a design element, like a piece of artwork that makes you happy or a new blanket that reminds you of your grandmother. It could be about little conveniences, or the ways to connect with others in your home, such as putting a fire pit out back for lazy evenings. These things don't necessarily have to cost a lot of money, but you definitely get a lot of bang for your buck.
The New Year is the perfect time to think about the things you want to do for your home. We hope that our suggestions have spurred some ideas, but don't be afraid to personalize the list to make it more meaningful for you.
{{cta('396afe6d-eb66-4f0c-9685-6de24a904aa0′,'justifycenter')}}